TOG is a system that assists psychiatric professionals in their selection of appropriate grounding objects with their clients who dissociate. It is an interactive therapy tool that allows therapist and their patients to interact in a new way that extends the benefits of therapy to be more present in the daily lives of these individuals.
Introduction
TOG is a tool that is intended to be used within a therapy environment between the client and the therapist. The project objective was to create a "grounding pack" of objects for individuals with dissociative episodes and was developed with the assistance and guidance of the BC Psychological Association.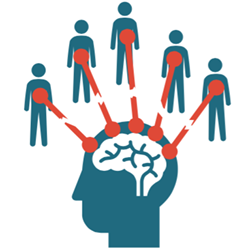 In September 2013, this project was pitched as collaboration between Emily Carr University and Dr. Gayle Goldstein, who is connected to the BCPA. The preliminary goal was to provide tactile and natural ways for patients to carry the benefits of their therapy work outside the office to help them feel more grounded. I took a focused approach to the project, primarily designing for DID or Dissociative Identity Disorder which was formerly known as Multiple Personality Disorder.
Dissociative disorders are mental health issues that impair the normal state of awareness and limits and/or alters one's sense of identity, memory or consciousness. People with DD have issues with losing touch with reality and often work with therapists to bring themselves back into the current situation.
How can design be used to create a way for people with dissociative disorders to manage or reduce fragmenting in their daily lives?
How can the therapy work be taken out of the office and into the daily lives of individuals with dissociative disorders?